Welcome!
Welcome to Cambridge Pediatrics. We are glad that you are here and are honored that you have entrusted your child to our care. We are committed to providing the highest level of care for our patients. You, as a parent, are your child's principal advocate for delivery of health care. Along with you and your insurance company, we make up a health care team working for your child.
Please log into the patient portal to request future appointments (please call the office for same day appointments), request prescription refills, ask questions of the physicians, billing staff and referral coordinators, update your demographic and insurance information, among other things.
Check out The Pediatric Mama Blog by Dr. Tuere Hughes-Kapenzi at www.mamapeds.com
The Healow Kids App
This new app allows you to review health records, send and receive messages, and book appointments.
(Updated 01/17/2022 5:00 a.m.)
Our office will be opening today at the regular scheduled time of 7:00 a.m. as fortunately the rain washed away the majority of any snow received yesterday in the Metropolitan area.
COVID TESTING LOCATIONS:  Additional weekly drive through COVID-19 testing sites will begin this week at the following locations:
Thursday: Charles County Fairgrounds, 8440 Fairground Rd. LaPlata, MD 20646 from 9:30 a.m.-12:30 p.m. (This is going on today Jan. 13th)
Friday: Southern Maryland Electric Company (SMECO), 15065 Burnt Store Rd., Hughesville, MD 20677 from 9:30 a.m. to 12:30 p.m. NOTE: Please enter ONLY through the gate where an ENTER sign is posted. Appointments are not required; however, wait times may be longer than usual due to high volume. The number of tests administered will be contingent on the number of test kits available at the site.
***** COVID-19 Testing will no longer be held at New Life Church on Fridays****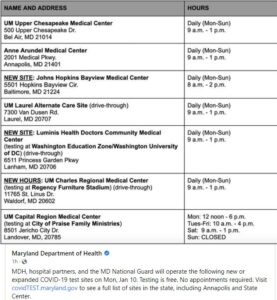 The Covid vaccine for patients ages 5 – 11 years old and the Pfizer vaccine for children 12 to 18 years of age are both now available in our office. If you are interested in having your child get the vaccine please contact our office at 301-645-1133 for appointment information.
We have changed our check-in procedure and are now using Healow Check-In. It is important that you verify we have the correct cell number for you when you call to schedule an appointment. Our system now pushes a link for you to check in for your appointment, if it is a same day appointment you should receive the message approximately two hours prior to your appointment time. If you do not receive the check-in link, please call our office so that we can re-send the link. Once you have arrived in the parking lot please go back to your appointment check-in link and click on I have arrived to let us know that you are here. The medical assistant will then be notified to prepare your room and will call you when it is time to enter the premises. Thank you.
In the Event of an Emergency
Please call 911. For urgent medical questions or advice during office hours please call the office, and after office hours, call our answering service at 301-609-5235 and your call will be returned by the physician on call.